Check us out and you'll see why we stand out
from all the others. Quality, comfort, beauty.
Diamond Bar Village is a rare sanctuary, nestled among manicured hedges and freshly mowed lawns. Here, more than anywhere else, we value comfort, sustainable luxury, and a pervading sense of peace. With gorgeous landscaping, spacious floor plans, communal pool access and a central location within easy driving distance of local shops, five-star restaurants, and a host of other cultural amenities, Diamond Bar Village isn't just a great place to live—
it's your new home.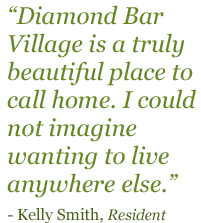 We have designed our community to reflect the desires of our residents. Our floor plans incorporate space and flexibility, with a variety of customizable features including exclusive private patios, washer and dryer access, lofty ceilings, carpeted floors, and central air conditioning. To live in Diamond Bar Village is to realize your dream of having a home that reflects your
personal style.
Whether you relish summer relaxation, an evening hike in your own backyard wilderness, or a quiet cup of coffee on your patio or balcony, there's always something to do in the Village. Keep fit on the latest exercise equipment in our sports center, or wake up with a few laps in the pool. Take an early morning jog around the Village, and enjoy the peace and quiet of your surroundings.
Please browse our photo gallery and our individual floor plans for a better look at what we have to offer. When you're ready, come by and see what the Village is like in person. Our staff is here to give you a personal guided tour of the Village, and answer any questions you may have. Whether you're new to Diamond Bar or a life-long resident, the Village will astonish you with its beauty and serenity. Start living the life you've always wanted, in the setting you deserve!